About Moldcheck Inc.
Moldcheck Inc. has provided mold mitigation, water damage and inspection services in the Denver Metro area and Front Range for over a decade. Moldcheck Inc. is not a franchise. Moldcheck Inc. is locally owned and operated. Moldcheck Inc. has performed several thousand mold remediation projects & inspections along the Front Range.
We are rated an A+ Accredited business by the Better Business Bureau.
Our employees adhere to strict guidelines as set forth by the EPA, IICRC, CMICI and Indoor Air Quality Association. All employees are certified and wear protective equipment including full faced respirators, Tyvek suits and rubber gloves in the work zones at all times.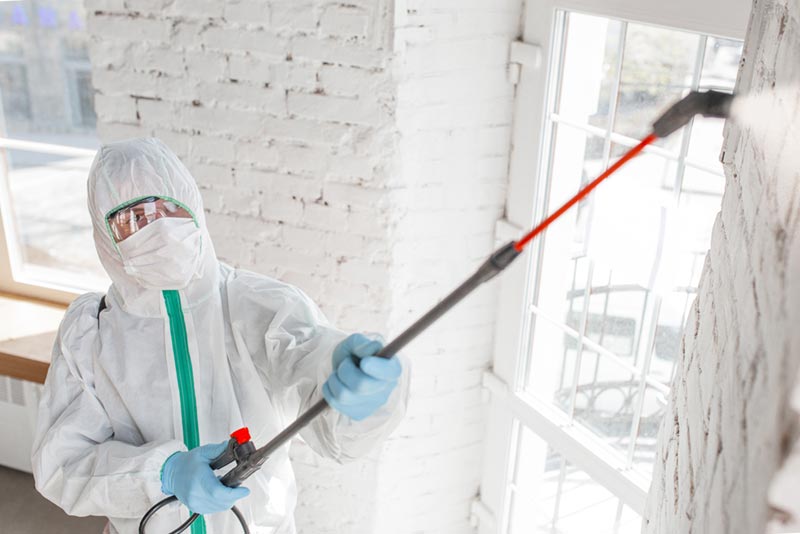 We Have the Experience
Experience is undoubtedly the key factor when deciding on a professional mold mitigation firm. Moldcheck Inc. encourages you to research your firm and ask for references when choosing a mold professional.
Our knowledgeable staff can assist you with your mold questions, assessment and mitigation options. Our inspection/sampling procedures can be performed efficiently and sample results are returned quickly-typically within 48 hours.
Our company vehicles are plain white with no logos or markings. Your neighbors do not need to know about your mold issues. We take mold contamination in your home very seriously and your health and indoor air quality of your home is our number one concern.
Mold Inspection
Moldcheck Inc. provides inspection services and mold surveys for residential and commercial buildings. Assessments of residences and commercial buildings are performed by certified and qualified specialists that will provide you a protocols, advice and direction on your mold project.
Air, viable and non-viable sampling is available. Results typically are returned to the client within 48 hours. Lab analysis is performed by an accredited laboratory located locally.
We can also provide infra-red thermal imaging to detect moisture in walls, ceilings and areas where water damage is suspected. Fiber optic scopes can also be utlized to detect microbial growth behind behind suspected walls.
On a typical mold mitigation project, air sampling is conducted prior to and upon completion of mold remediation procedures. The final testing upon completion is referred to as a clearance test. Sampling is not always needed, depending on the size and scope of the project.
Ten Things You Should Know About Mold
Potential health effects and symptoms associated with mold exposures include allergic reactions, asthma, and other respiratory complaints
There is no practical way to eliminate all molds and mold spores in the indoor environment; the way to control indoor mold growth is to control moisture.
If mold is a problem in your home, office or school, you must clean up the mold and eliminate sources of moisture.
Fix the source of the water problem or leak to prevent mold growth.
Reduce indoor humidity (to 30-60% ) to decrease mold growth by: venting bathrooms, dryers, and other moisture-generating sources to the outside; using air conditioners and de-humidifiers; increasing ventilation; and using exhaust fans whenever cooking, dishwashing, and cleaning.
Clean and dry any damp or wet building materials and furnishings within 24-48 hours to prevent mold growth.
Clean mold off hard surfaces with water and detergent, and dry completely. Absorbent materials such as ceiling tiles, that are moldy, may need to be replaced.
Prevent condensation: Reduce the potential for condensation on cold surfaces (i.e., windows, piping, exterior walls, roof, or floors) by adding insulation.
In areas where there is a perpetual moisture problem, do not install carpeting (i.e., by drinking fountains, by classroom sinks, or on concrete floors with leaks or frequent condensation).
Molds can be found almost anywhere; they can grow on virtually any substance, providing moisture is present.
There are molds that can grow on wood, paper, carpet, and foods.
(This information is provided by: http://www.epa.gov/mold/moldbasics.html)